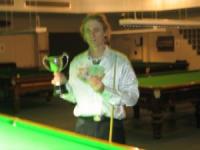 Last Updated: 17/02/13 06:26:30
Captions: Will 2016 be my year?
City:
Occupation: All-rounder
Playing since: 1998
High Break: 110* Mar12
Centuries: 1
Favourite Player: Judd Trump, Ding Junhui for his accuracy
Favourite Quote: Rather be lucky than good!
Best Results: Qualify 2007 National Snooker after not winning a frame in my first attempt the previous year. Qualify 2015 Oceania in Auckland
Career Highlight: Beating you MOFO!!
Achievements: Win a number of Junior and Intermediate Canterbury Titles
Career Goal: Own the black spot.