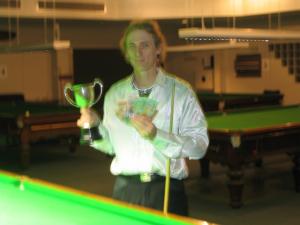 Gower sweeps aside Handicap Snooker field
23/05/10 02:53:45
Picture: a fistful of dollars



John Gower has beaten Lawrence Seinafo 2-0 in the Final of the Handicap Snooker for 2010 held at Papanui Club.

Gower remained unbeaten during the day to record 7 consecutive 2-0 wins.

The key to Gowers success was depriving the opposition of scoring opportunites and some outstanding pots and follow up mini breaks as well as making the critical shots when only the colours remained on the table and danger was still present.

Congrats to John Gower!!

Deane Waretini won the flight and recorded the High Break of 35.

The event was notable for the 2 life concept and the winner being able to win both first and second prizes and the King of the Table flight system.

A DVD of the final is available to anyone who may wish to view the Final, contact John Gower.

You can also view highlights on youtube, search on John Gower Snooker 2010

To view more details of the Finals day and the events that took place open the PDF document lower down the page.