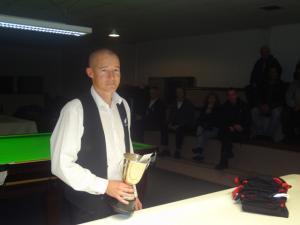 Canovan takes 2nd Ranking event title in succession
12/06/10 01:06:18
Picture: Mark Canovan



Mark Canovan has won the South Island Championship, held Queens Birthday weekend at Cuthberts Green in Christchurch.

A field of 24 took place in the event, including many players from the lower South Island including Jason Todd, Danny Ryan and Shannon Swain.

During qualifying things went pretty much to seedings with no real upsets.

The KO phase began with Canovan, Witehira, Gillard, Pritchard all winning relatively easily.

The match of the round was between youngsters Shannon Swain of Gore and Sam Bond of Oamaru? with Swain coming through with a 45 break in the deciding frame to go through 4-3.
Earlier Swain had put the pressure on Bond with a 64 break and quick scoring to take a very fast and what looked decisive 2 nil lead.
However Bond then showed why he is now rated with a sterling comeback to frustrate Swain and make the most of opportunities given to get it back to 2 apiece then go to the lead 3-2, essentially by outplaying Swain.
Swain took the 6th when Bond clocked off a little to provide Swain with some chances to score which he took and was able to control the frame comfortably enough.
Frame 7 saw Swain have quite a bit if luck in regards to going after 3 separate reds, missing them, going into the open reds and somehow not leaving Bond on for a chance to take the match.
Unfortunately for Bond when he missed a red Swain was able to score the decisive break.

The next round saw Witehira battle against Canovan, with Canovan coming through with a 108 break to snatch the match 4-3.
Once again it was a great battle with Canovan up 2-0 then Witehira shutting Mark out to get it to 2 all, then 3 all then the deciding break when incidentally a cell phone went off with a 121 clearance on the table, rumour has it thats Marks mother was the culprit.

Another match saw Jim Ryan, beat his son Danny once again in the deciding frame.
Jim made a break of 62 which must have upset Danny as he tossed in the frame and the match with still 65 on the table and no snooker required.

Semis saw Gillard take on the heavy scoring Shannon Swain and come through relatively easily with steady play and superior all round ability, Swain showing that he still has some way to go in regards to certain aspects of the game, but that he will certainly be a seriously good player in 5 years or so.
The other semi was a bit of a cakewalk for Canovan as expected although Ryan was able to take a frame off Canovan. He certainly never gave up and deserved his semi final spot.

The final was a repeat of the Assn final in all respects except that this time Canovan was on his game and crushed Gillard to win very easily indeed.

Canovan also scored a 130 clearance in the match to take out the high break along with the title.

It was heartening to once again see Mark in top form, and he will need to be again in the future with Swain and Bond looking to be big threats to his South Island dominance.

Congrats to Mark Canovan

The flight was won by Barry Ede

The plate waas won by William Teoh, another young player who was showing some nice shot making skills and break building ability, although his inexperience was clear to see.

Some very good young players coming up, very heartening.