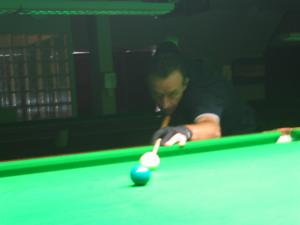 Intermediate title Winner found
20/09/10 01:42:19
Picture: Ollie van der Krogt



The Intermediate Snooker for 2010 was won by 2007 finalist Ollie van der Krogt, also a former winner of the South Island Pool title.

14 players contested the event held at Cuthberts Green.

Ollie proved too strong in the final for Kyri Michaelides who had shown impressive form earlier in the day but as the day wore on slowly petered out to not really contest the final.

Ollie on the other hand was knocking the balls in and scoring regularly to take the title 3-0.

In the semis Ollie had beaten Les Mitchell 2-1 and Kyri had beaten 2008 Handicap winner Frank Dwyer.

Michaelides had the high break of a very good 55 before missing off the black spot with a 89 clearance on the boards.

Dylan Engebretsen won the plate beating Shane Breckon 1-0.