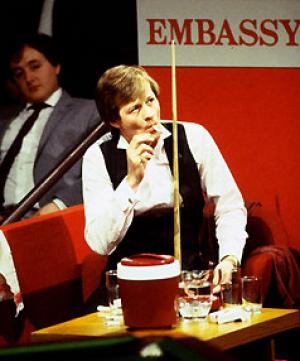 Alex Hurricane Higgins passes away
25/07/10 02:18:54
Picture: Alex Higgins at play courtesy Reuters





Alex Hurricane Higgins, the twice world snooker champion who died today aged 61, dragged a staid and stuffy sport into the modern era with his outrageous talent and scandalous behaviour.

Higgins, who lost his long battle with throat cancer, had a fast and thrilling style as well as a foul mouth and fiery temper which once prompted him to headbutt a referee.

The heavy drinking Northern Irishman claimed the world title in 1972 and again 10 years later and was a losing finalist in 1976 and 1980.

But his influence extended far beyond the trophies he won. He helped elevate a sport from parochial gentlemens clubs to a worldwide television audience.

He was a player who had so much fascination for the crowds, six times world champion Steve Davis told Sky Sports.

For the fans who watched him he was a competitive animal. He wore his heart on his sleeve and you knew what he was feeling as he played.

In a game that is reserved, with bow ties and dress suits, where you are not supposed to show emotion at the table, you could read what Alex Higgins was thinking and for that reason he had a magnetism that is very rare in sport.

He drew a lot of people who wouldnt watch snooker to come and watch the game. He dragged the sport kicking and screaming forward.

Higgins, who started playing snooker at 11, threw the textbook out of the window with his high potting stance and body swerve cueing action.

He was just 22, the youngest ever at the time, when he claimed his first world title, and it came at his first attempt.

He was a very exciting player to watch, he was totally unique and there will never be another one to play the game the way Alex did, former world champion Dennis Taylor told the BBC.

There was just something about the way he played the game there was a little bit of magic in there and there was always going to be a little bit of controversy.

THROAT CANCER

Controversy was never far away when Higgins was at the table. He was fined and banned for head-butting a referee at the UK Championships in 1986, while he punched a tournament official after losing a World Championship match in 1990.

He was diagnosed with throat cancer in 1998 and spent time hustling for money in backstreet clubs but never lost his appeal to snooker fans.

He recently debuted on the Snooker Legends Tour and, despite his ill health and failing abilities, he still proved a star attraction.

He suffered with his illness for a long time and was still wanting to play in the seniors, former player and television commentator Willie Thorn told the BBC.

Until a couple of months ago he was playing and obviously he didnt really have any ability any more, it was just drained out of him.

But the crowd came here and there were over a thousand people watching every time he played. We owe him a great deal of gratitude for what he has done for this game.